This month has been a huge success for The Mustcard – I am absolutely and can't stop smiling like a Cheshire cat. The last few weeks have pretty much gone to plan (apart from a few struggles learning how to work my new gazebo) with most of my time being spent outdoors meeting locals and introducing them to The Mustcard.  Even more so than ever, it really does feel like it's all coming together and I'm delighted to hear and see that people are starting to get their rewards and are actually enjoying using our small local businesses. We have seen a vast increase in new members since last month, mainly from the abundance of local Christmas Fairs I have been attending and I would like to thank everyone who has just joined our little community. Welcome!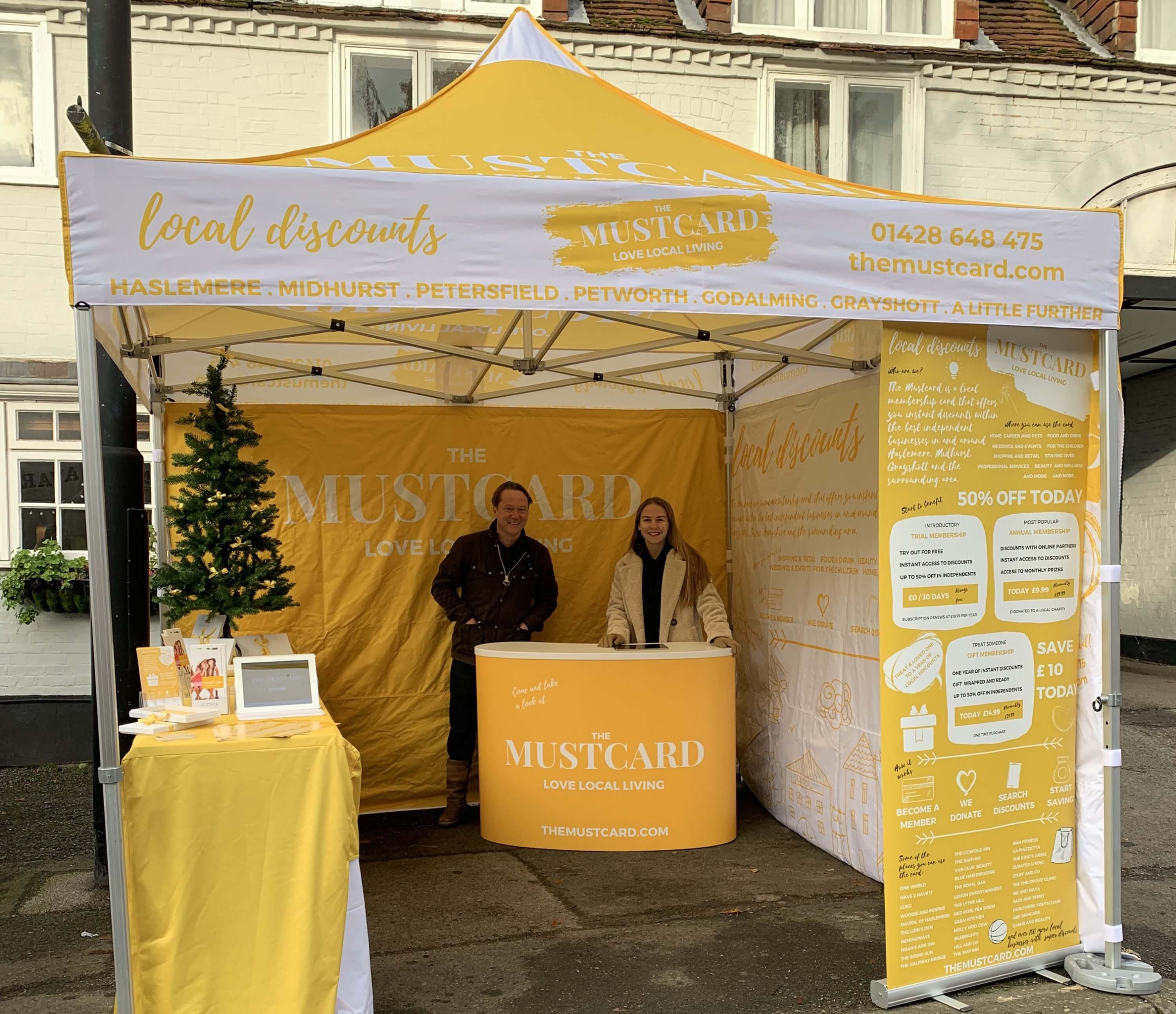 The rest of December for me is all about our Charity week which starts Monday 9th December (next Monday. This is the first charity event that I have done for The Mustcard and I very much hope it will be a success and something that we can carry on to do again this time next year. Our charity week is pretty simple –  I will be popping up in different locations over the week to promote The Mustcard and 100% of the proceeds that we take from new members (online or in person) during that week will be donated to The Food Bank at the 3 Counties Church on Lion Green. There are approx 100 families within Haslemere that need a little help to make Christmas special. However big or small, I hope to make a little difference by donating food and presents to the church on Sunday 15th December. Do help spread the word if you can!
NEW INDEPENDENTS TO THE MUSTCARD
As per normal we have partnered up with some more fantastic and very varied local businesses and hopefully there will be something new that you can all enjoy!  And please, if there is any business that you would like to see partnering with The Mustcard then just drop us a line and let us know. Or get out there and rave about how fantastic we are and maybe they will come to us.
THE LYTHE HILL HOTEL AND SPA  £12.50 (33.3%) OFF A COURSE OF 5 FITNESS CLASSES NOW ONLY £25.00
Lythe Hill's dedicated health and fitness team offer an extensive range of classes to suit all ages and abilities. If you want to lose weight, they have Cardio and Aqua classes. Or if you prefer to treat your mind as well as your body, they've got you covered with Yoga and Pilates.
They're positive you'll find something that suits you!
The Lythe Hill is a historic country house hotel, set in 20 acres of woodland on the slopes of the Surrey/Sussex Hills. The former farmhouse and outbuildings form a picturesque hamlet on the outskirts of the market town of Haslemere.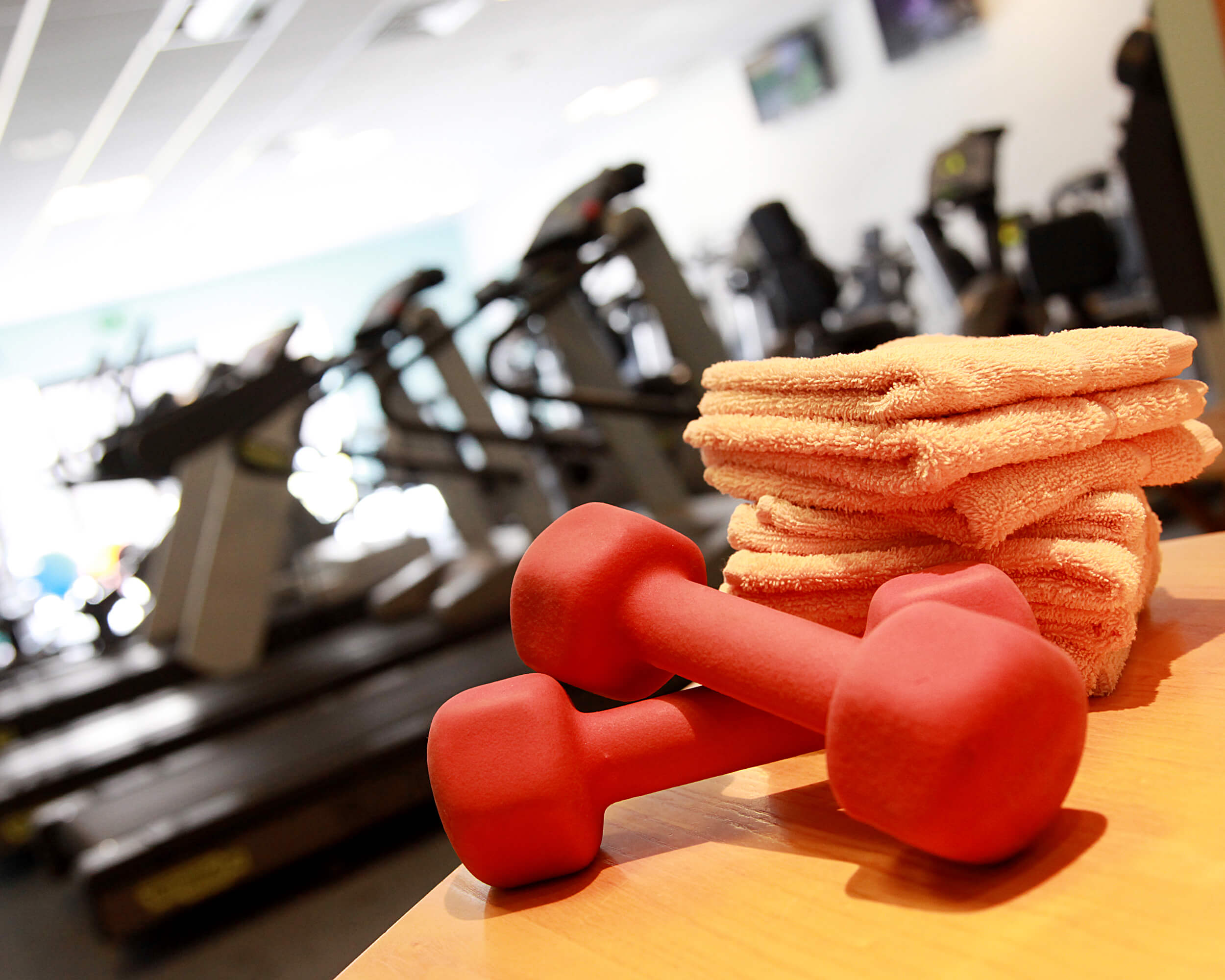 The Lythe Hill Hotel and Spa, Petworth Road, Chiddingfold, Surrey, GU27 3BQ; 01428 651 251; Website
NOAH'S ARK INN  FREE PUDDING WITH A MAIN MEAL
Located just a stone's throw from Blackdown Hill on the borders of Surrey and West Sussex, The Noah's Ark is a beautiful 16th century pub situated in the picturesque village of Lurgashall.
The pub has become an established venue under the ownership of Henry Coghlan and Amy Whitmore, their aim is to provide outstanding seasonal food with great service while retaining a traditional pub atmosphere.
Alongside an interesting wine list there are three ales; IPA, Abbot Ale and a regularly changing guest.  The pub is extremely child friendly and dogs are very welcome in the bar.
The Noah's Ark team is very proud to be recommended in the Michelin and AA guides amongst others.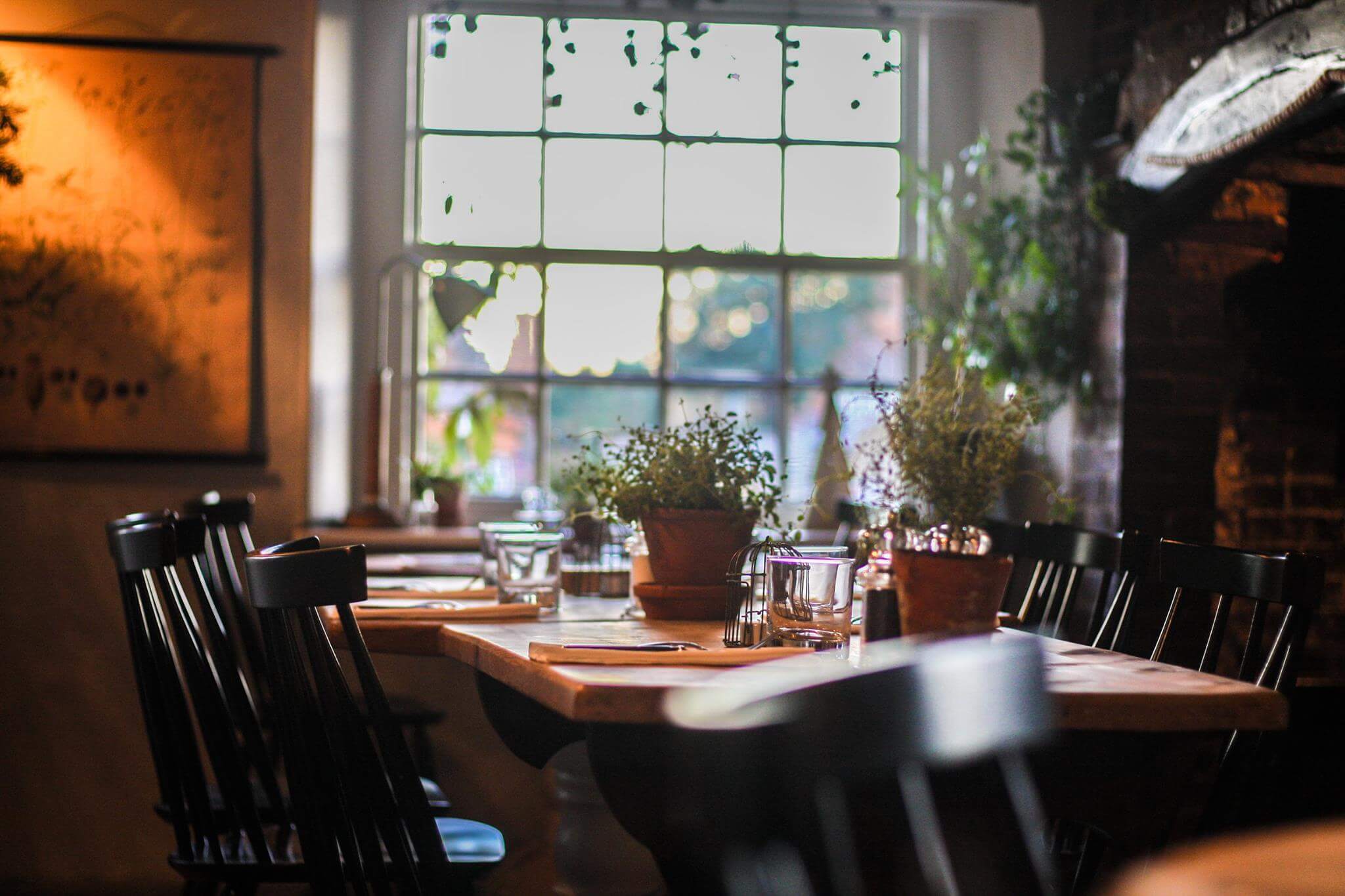 Noah's Ark Inn, Village Green, Lurgsashall, Petworth, GU28 9ET; 01428 707 346; Website
THE LICKFOLD INN  FREE STARTER OR PUDDING
Steeped in history and nestled in the heart of the South Downs National Park, the Lickfold Inn combines 16th-century charm with the very finest home-cooked, classic cuisine.
A one-time coaching inn, the building retains a host of its original features, including timber frame, herringbone brickwork and open fireplace.
But with an eye on the present as well as the past, we offer the comfort, cuisine and service that today's discerning diners and pub-goers have come to expect.
Our menus provide a distinctive take on traditional gastropub cooking, with an eclectic selection ranging from ever-popular classics and delicious Sunday roasts to the very finest fish and oysters.
While inspired by traditional British dishes and the freshest seasonal produce, our team of chefs also draw upon influences from their extensive culinary travels at home and around the world.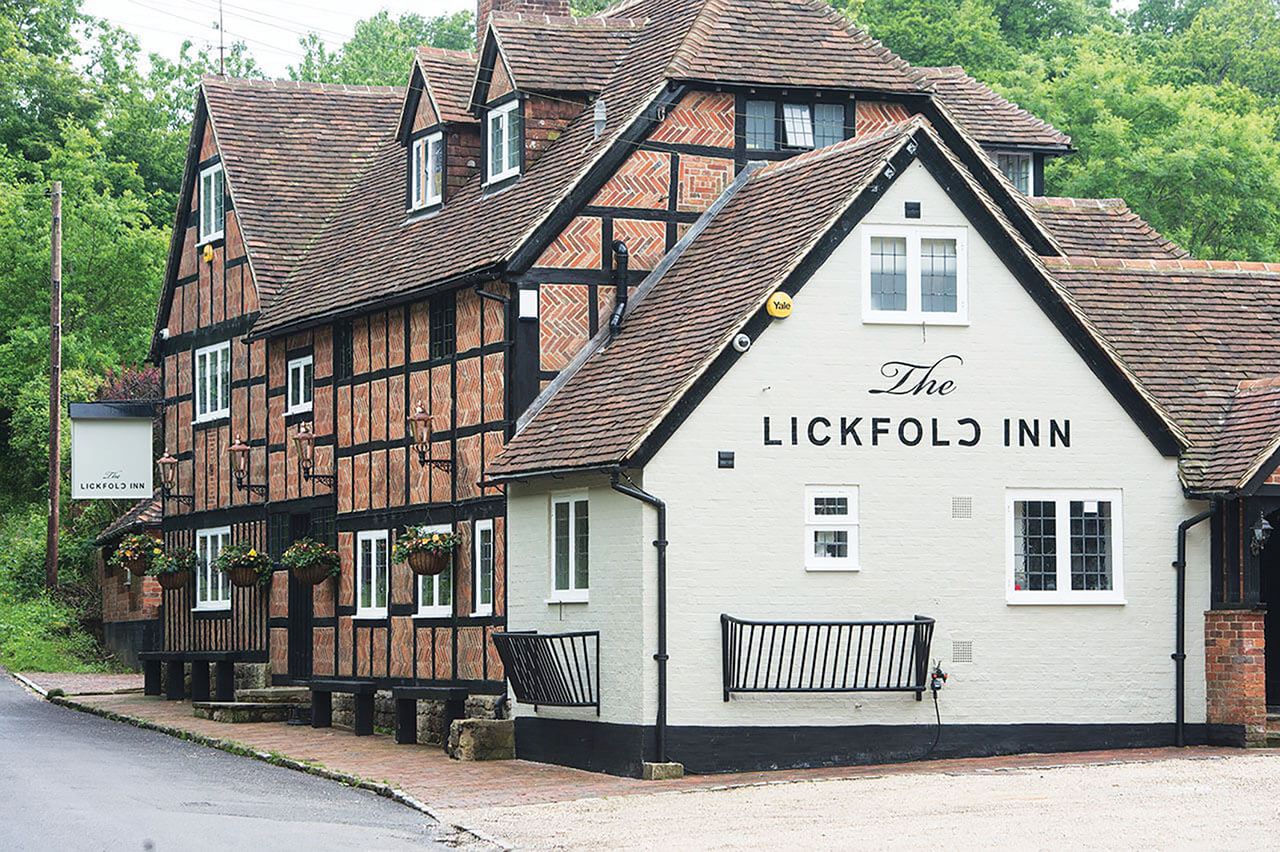 The Lickfold Inn, Highstead Lane, Lickfold, Petworth, GU28 9ey; 01798 532 535; Website
BLUE HAIR  10% OFF ONE SERVICE WITH SELECTED STYLISTS
Voted as best salon, best colour technician and best customer service at the prestigious British Hair & Beauty Awards 2017. Blue Hairdressing opened in 2002 and in 2004 was taken over by two of the original employees, Alan and Cara Hartnett, who saw the potential to develop the business further. After establishing a strong foundation, including the right team of experts, Alan & Cara expanded the business in 2008 dramatically increasing the size of the salon to create a more luxurious experience for their growing clientele. In 2013, Blue joined Salon Success and became 365 members which continues today.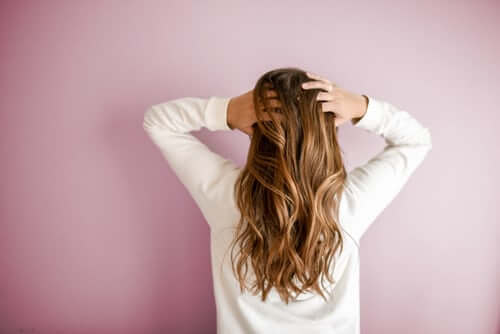 Blue Hair, 28 Headley Rd, Grayshott, Hindhead GU26 6LD; 01428 607555; Website
THE STAR AND GARTER  20% OFF TOTAL BILL
The Star & Garter is a gorgeous country inn with rooms in the village of East Dean, which nestles in the South Downs National Park and at the heart of the Goodwood Estate – the perfect base for walkers, cyclists, race-goers and motor sport enthusiasts. The 18th century flint and brick country pub is the ideal place to relax and enjoy fabulous food, beer, and wine. Or should you be heading to any the Goodwood festivals or events this year then this is the place for you. Being only a 5 minute drive away it is ideally located for enjoying fine food, a snack or a drink either before or after your event. Should you wish to stay then they also have three lovely en-suite rooms!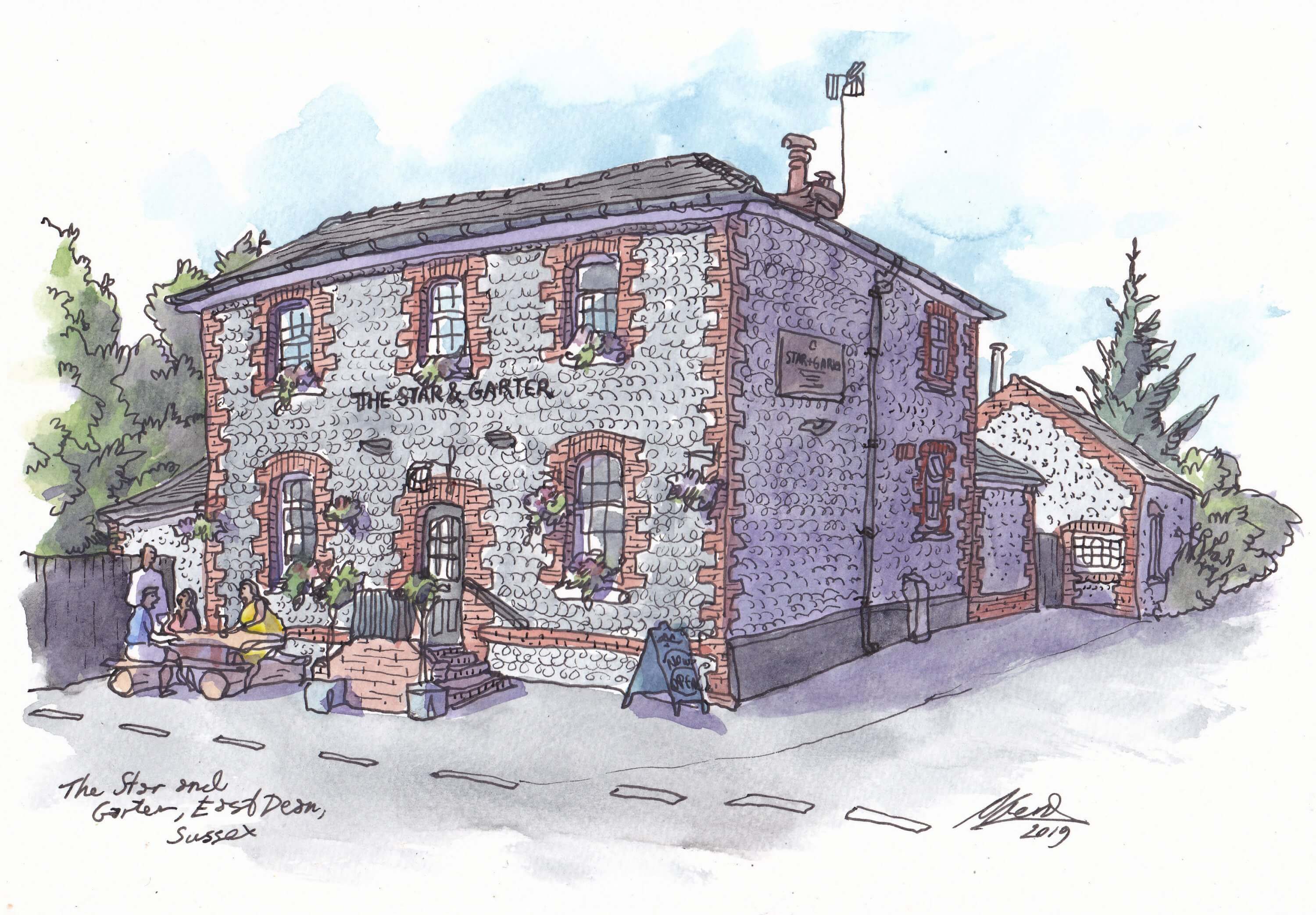 Star and Garter, East Dean, Near Goodwood, Chichester, West Sussex, PO18 0JE, 01243 811 318; Website
GOSPEL GREEN  105 OFF CELLAR DOOR SALES
Gospel Green use the double fermentation 'champagne method' to produce a delicious and sophisticated sparkling cider. Providing the perfect alternative to champagne, prosecco and cava.
For over 20 years the multi award-winning Gospel Green Cyder Company has sourced their hand picked apples from the Blackmoor Estate in Hampshire. The cyder house is less than a mile away from the orchards, ensuring supreme quality and taste.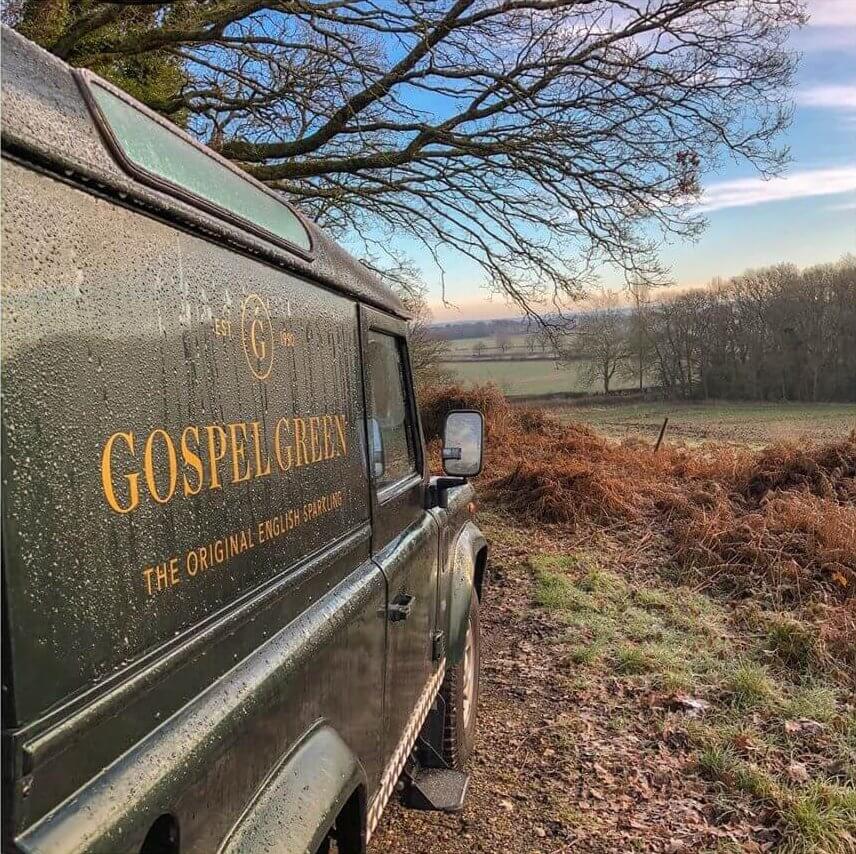 Gospel Green, South Downs National Park, Blackmoor Estate Office, Drift Road, Liss GU33 6BS, 01420 446448; Website
THE HALFWAY BRIDGE  FREE CARAFE OF HOUSE WINE PER TABLE
Friendly service and excellent presentation combine to create the perfect atmosphere in which to relish exceptional food and inspired cuisine. A simple but elegant décor includes fabulous open fires, with dining offered in a choice of intimate nooks. In good weather alfresco dining on our pretty terrace or in the sheltered garden is idyllic. The menu bursts with locally sourced and seasonal ingredients. Fish, game and traditional English and Mediterranean dishes. There is always something to excite the appetite. A connoisseur's wine list complements the menu, including local sparkling wines. Many are served by the glass to help you discover a favourite! A fine selection of Sussex ales is also available.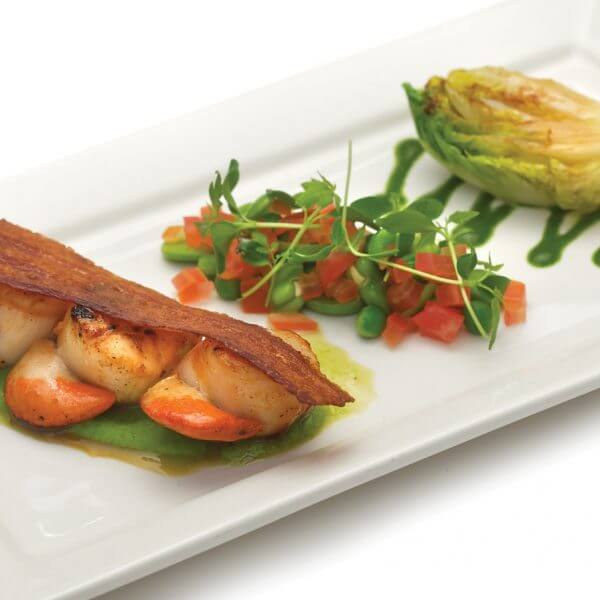 The Halfway Bridge,
Lodsworth, Petworth, West Sussex, GU28 9BP,

01428 651 251;
Website
Developed by two longtime gin lovers, husband and wife team Graham and Gail Woolston.  What began as a passing comment in 2013 about a possible hobby has grown into a passion. Lovers of a fine gin and tonic at the end of the working day, they were becoming increasingly bored with gins that whilst promising much in terms of flavour just fade away when you add a mixer. On so many occasions Graham and Gail felt that all you were left with was a glass of alcoholic tonic water! So that became their challenge/mission.  To develop a gin that remained a classic London Dry Gin, elegant and refined, but is packed full of flavour.  "We wanted a gin that was daringly different for the people who love gin as much as we do."  Not the quirky one off buy that sits in the cupboard, but a truly classic gin, that customers come back to again and again as their gin of choice. A gin that would really stand up for itself and carry the flavours of all of the beautiful botanicals through to the final sip. A Brilliant Gin, Made For The Spirited!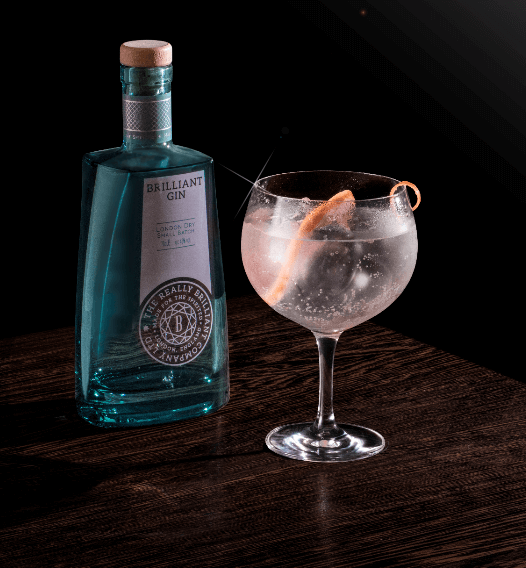 The Blue Bell Inn is located only yards from the quay in Emsworth, boasting terrific views from the terrace, and is renowned for superb food served in a proper pub. This busy local at the heart of the community is the perfect spot for a drink or a bite to eat after a walk around the harbour or a visit to the shops in the town. Well-stocked with a wide range of real ales and lagers, together with an extensive wine list, the Blue Bell, under the watchful eye of owner Giles, prides itself on serving fresh produce sourced locally. Nominated as one of the Top 20 pubs in the South-East by TripAdvisor in 2015, and recommended by The Times for its fish and chips, come and see what the fuss is about!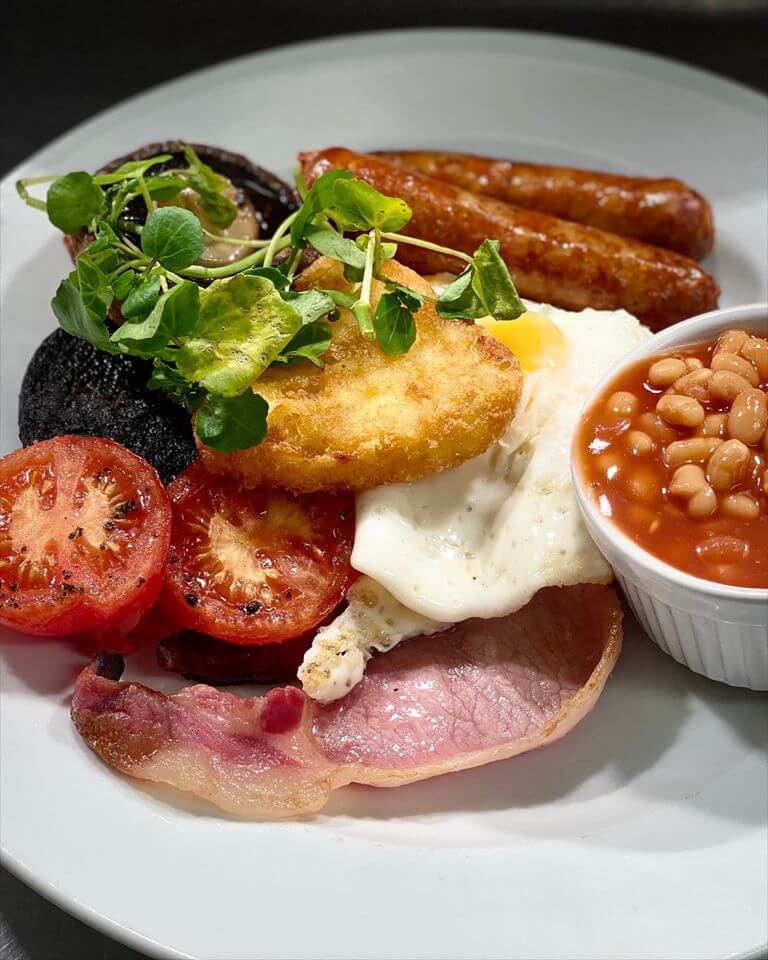 The Blue Bell,
29 South St, Emsworth, West Sussex, PO10 7EG,
01243 373394;
Website
Rebuilt in 1933, The Ship Inn is nestled in the heart of the beautiful sailing village of Itchenor. Being an Area of Outstanding Natural Beauty, the pub provides the perfect pitstop for walkers enjoying the nearby coastal footpaths and cyclists navigating the Salterns Way which travels from Chichester to West Wittering via Itchenor Village. Being only 200 yards from the picturesque Chichester Harbour, it is also popular with sailors both local or those staying on a visitor's mooring. The pub offers locally sourced, fresh food, a selection of fine ales. Super dog friendly so take the pooch along!

The Ship Inn, The St, Itchenor, Chichester PO20 7AH; 01243 512284; Website
The Amarna spa is an oasis of tranquillity that blends health and wellness together. They bring you a choice of spa day experiences, a great way to share a relaxing day out with friends, family or someone you love. Whether you're a regular spa user or you're new to the idea, you're sure to find a treatment that's perfect for you at Lythe Hill. They always endeavour to make your time with them as relaxing and enjoyable as possible.
The Lythe Hill is a historic country house hotel, set in 20 acres of woodland on the slopes of the Surrey/Sussex Hills. The former farmhouse and outbuildings form a picturesque hamlet on the outskirts of the market town of Haslemere.

The Lythe Hill Hotel and Spa, Petworth Road, Chiddingfold, Surrey, GU27 3BQ; 01428 651 251; Website
TJ Creative is made up of content and marketing experts who bring businesses and brands to life through the power of words.
The team at TJ Creative specialise in delivering powerful content marketing, Search Marketing (SEO), web content writing, copywriting and social media marketing. The combination of digital marketing and writing work seamlessly together, executing stand out strategies.
Founder of TJ Creative, Tom Blake, is a psychological thriller author under the pen name T. J. Blake, and has been in the digital marketing sphere for over 5 years. He has worked with small and medium businesses, as well as globally leading brands.

T J Creative; Website
Founded by former print journalist Alex Gorton, TAE Boutique (The Alex Edit) is an online boutique specialising in fashion, gifts and accessories for women. TAE's collection includes beautiful cashmere accessories, costume jewellery, bags, scarves and clothing from Danish, French and British brands. New stock is always arriving to keep the collection fresh.
As a journalist (for publications including The Times, The FT, Evening Standard and Tatler, Alex spent much of her former career writing about trends, interviewing the odd celebrity, travelling and, more often than not, hunting out gorgeous, affordable items to write about. And this really is where the idea of TAE came from. Having been lucky enough to discover so many beautiful places and products through her job, she wanted to put together a curated edit of her favourite pieces on one fantastic website. None of us have the time to trawl through the shops anymore (unless it's our job!) so she wanted to make it easy for women like me to find beautiful, often unique, items that make you happy, all in one place.

TAE Boutique, Sailtops, Cox Green, Rudgwick, West Sussex, RH12 3DE; Website
Glamore Aesthetics is an Advanced Aesthetic treatment rooms specialising in a range of beauty therapies and the best of the  in specialised aesthetics. Having recently opened a Clinic and Spa in Grayshott, Hampshire you can now receive excellent treatments right on your door-step. Managed and run by their leading manager and advanced practitioner Samantha Stevens – you can know that you and your body are in safe hands and are guaranteed to come out feeling fabulous and looking younger.

Glamore Aesthetics,
Glen House, Grayshott, Hindhead, GU26 6HJ;

08437 131 159;
Website
CURRENT PARTNERS THAT HAVE CHANGED THEIR OFFERS
COMING UP NEXT MONTH
THE TREE SPACE, Hindhead Road, Surrey, GU27 6AY; 07597 553 350 Website
FOREST GALLERY, Lombard Street, Petworth, GU28 0AE; 01798 368 161 Website
THE GRAYSHOTT WINE COMPANY, 28A Headley Rd, Grayshott, Hindhead GU26 6LD; 01428 607660 Website
SOUTH DOWN VENISON, The Old Dairy; Duncton, Petworth, West Sussex, GU28 0LT; 01798 343245 Website
KINSA JUDO, 07958 745803 Website
SEYMOURS, 35A High St, Haslemere GU27 2JY; 01428 787878 Website 
OUR PRIZE WINNERS
Laura Kennington was our winner this month and thanks to The Kings Arms her and a friend will be enjoying a two course meal for two sometime very soon.  On the 15th December we will be announcing our next lucky winner who will win an A Lift Facial worth £75 from The Chilgrove Clinic.  If you want to be in with a chance of being that lucky person then all you have to do is put your sticker in the front or rear windown of you car and wait.
UPCOMING EVENTS
MIDHURST STREET PARTY – Friday 6th December 6pm to 8pm, Van Glue, 2 Red Lion Street, Midhurst, West Sussex, GU29 9PB
GRAYSHOTT WINE COMPANY – Monday 9th December 10am to 2pm, 28a Headley Road, Grayshott, Hindhead, GU26 6LD
THE LION'S DEN – Tuesday 10th December 10am to 2pm, 110 Wey Hill, Haslemere, Surrey, GU27 1HS
JULIANNA HEALE – Wednesday 11th December 10am to 2pm, 2 Regency House, Rumbolds Hill, Midhurst, West Sussex, GU29 9NB
HEMINGWAYS – Thursday 12th December 10am to 4pm, 48 High Street, Haslemere, Surrey, GU27 2LA
JAZZ WALKER – Friday 13th December 10am to 2pm, Hollist House, West Street, Midhurst, GU29 9NF
HEMINGWAYS – Saturday 15th December 10am to 4pm, 48 High Street, Haslemere, Surrey, GU27 2LA
NEXT UP
Next week I will be adding to my '5 Of The Best' feature when I give you a little inspiration before you book your festive outings – I'm talking Christmas parties, family lunches and of course, The big day itself!
TRY THE MUSTCARD FOR 30 DAYS FOR FREE CLICK HERE
OUR BLOG
Sign up for our blogs and monthly newsletter with local highlights and news from behind the scenes.
LET'S START SOMETHING NEW!
SAY HELLO.
If you have a question, want to tell us something or just fancy a chat then just drop us a line and we will get back to you as soon as we can.