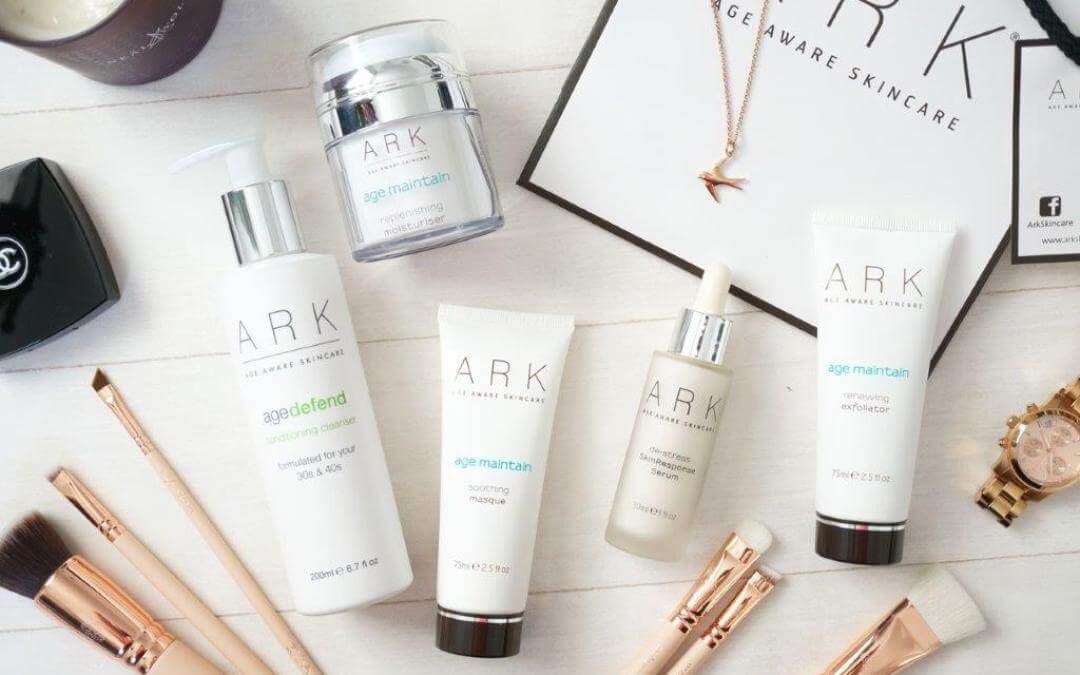 ARK SKINCARE
In today's post I will be introducing yet another first for The Mustcard, this evening I bring to you 'Mad about' – the series where I really get to focus on local, unique and exclusive companies and the creative and wonderful mind(s) that are behind the genius. One of the reasons that I love The Mustcard is the opportunity for me to trawl our beautiful countryside to discover and share the businesses that I fall head over heels in love with. And let's not forget, it's these very independents and their entrepreneurs that form the backbone of our economy and we should be proud to support them.
In the first of my series I am thrilled to welcome ARK Skincare and CEO, Tamsin Styles. This quiet and tranquil boutique located in the heart of Haslemere is the first of ARK's boutiques to open as well as the HQ to the whole award winning operation.
Creating a skincare regime can be overwhelming..
Especially, if you are not the type of person who has been dedicated to a strict routine since your teens. I was definitely not that person but it wasn't for the lack of trying. My continuous struggle to incorporate a complex multi-step routine into my busy life went on for well over a decade. Until recently, I was the ever so envious mum at the school gate. Jealous and bewildered at how these heroic women found the time to be exceptional mums, accomplished career women as well as fitting in an extensive skincare procedure. And on a twice daily basis!
Not only had I struggled to allot a portion of my day to a routine, I was totally baffled by the world of skincare and the number of products and formulas that are now available to us. My mum taught me that there were 3 skin types: oily, dry and combination. Now back in what may as well be the dark ages (5 years ago), I was said to have combination skin. Both oily and dry! However, was my skin type still the same? It sure as sunshine didn't still look the same. Otherwise let's face it I wouldn't be in this predicament in the first place. Let me tell you there are now at least 6 skin types and counting. For some you need to know your sebum/sweat production levels and for other I'm convinced you need a science degree or a week on google to understand the different acids and solutions.
Then i found ARK Skincare
I'd almost given up before i came across this special place. Who would have thought it, after all these years what i'd been searching for was simply sitting on the high street in Haslemere. Had I not walked into my local beauty boutique a few weeks ago i'd still be struggling now. ARK make it easy, they don't pigeon hole people into skin types and they don't believe we are the same skin type for our entire life. They have 3 distinct age intelligent categories: ageprotect for teens and twenties, agedefend for our 30's and 40's and agedefy for the over 50's. In addition to their age-related products they have skin perfectors, highly effective treatment products to address any concerns and they have 'every day essentials,' picked according to lifestyle.
Being in my mid-thirties my skin was starting to show signs of ageing as fine lines and wrinkles began to appear. ARK suggest that this is the time that we start to encounter internal and external stresses and the best time to begin to defend the integrity of your skin with vital nutrients and greater antioxidant protection.
I must also slip in that ARK are 100% against animal testing and are passionate about reducing animal cruelty. With Tamsin herself suffering with very sensitive skin she stands in as the company's chief guinea pig when any new product is being developed.
I decided to start small so I didn't get too overwhelmed and have initially only committed to 3 of their products. The results from such a small range have been exceptional. Let me share…
AGE DEFEND CONDITIONING CLEANSER  200ML  £25.00
This was the best cleanser for my age (super easy to pick) and is to be used both morning and evening. With ARK's recommendation I massaged the cleanser into the skin and use damp cloth with warm water to remove. I have been conscious to double cleanse in the evenings to make sure there is no make-up residue, but I don't think this second cleanse would be necessary for everyone. ARK Skincare promise a clear and radiant skin and they are not lying. With previous products my skin was sometimes left feeling dry after the cleanse, this product leaves my face and neck feeling very clean but still hydrated and supple.
AGE DEFEND REPLENISHING MOISTURISER  50ML  £35.00
ARK say, 'The best moisturiser for use in your 30s and 40s. Our best-selling treatment moisturiser with Co-enzyme Q10, is packed with natural moisturising agents such as Shea Butter and Olive Oil. Containing clinically proven wrinkle plumping peptides, including Matrixyl, it smoothes skin, plumps and tones, and diminishes signs of premature ageing. Vegan friendly."
In Layman's terms a moisturiser that makes my skin feel hydrated and nourished without feeling at all greasy. This moisturiser is on the thick side which I love, but for those are find that a concern you will not be disappointed as the cream is absorbed into the skin with ease. Supplied in an airless pump so you can dispense the right amount and reduce wastage.
SKIN ESSENTIALS HYDRATING BEAUTY MIST  150ML  £25.00
This is ARK's version of a toner and can be applied after a cleanser, after make-up powder if you are looking for a dewy look, prior to your afternoon touch up or to just refresh your face in a hot climate. If there was a stage on a previous regime that I skipped it would be the toner stage.  I don't know why but it always seemed the least important. However, I love using this product, it is intensively refreshing and leaves my skin feeling firm, hydrated and fabulous!
Next steps…
For now this is the extent of my new skincare regime, but needless to say this is not where the ends for ARK and I. I simply cannot wait for my next trip to the Haslemere boutique to get a few more products to join my clan.  Everything about this brand perfect for me – the products are easy to choose, super easy to collect and they really do work.  I'm still only a beginner with minimal products but I'm totally hooked.
Ladies, this is our local beauty brand, if you don't already use them then you need to head down to Haslemere High Street and check them out. Go immediately.
Seen in Tatler, Harper's Bazaar, The Sunday Times, Elle, Hello, Surrey Life……. The list is endless.
Ark Skincare, 14a High Street, Haslemere, Surrey, GU27 2JE; 020 3740 3303; Website
Join The Mustcard to receive a discount at Ark Skincare
BECOME A MEMBER
The Mustcard is a local discount card that costs only £19.99 per year and provides its members with instant discounts within the best independent businesses in and around Surrey, Hampshire and West Sussex. We have currently partnered with over 160 fabulous businesses and negotiated fantastic deals so our members can enjoy the best of the countryside and save money whilst they live, work and play!